PACKERS AND MOVERS FOR BILL CLAIM - BILTY | INVOICE
To claim the packers and movers bill, we need bilty i.e. Invoice, it is the document which has the address of consignor and consignee. There are details of transit insurance for old household items, details of who is paying GST. Also it includes Basic Freight Charge, GST, Hammali, Door Delivery Charge, it contains all types of charges.How many packages are there, where are they going from, vehicle number, delivery office address All such details are inside this bill challan which makes it easy for the customer to claim the bill.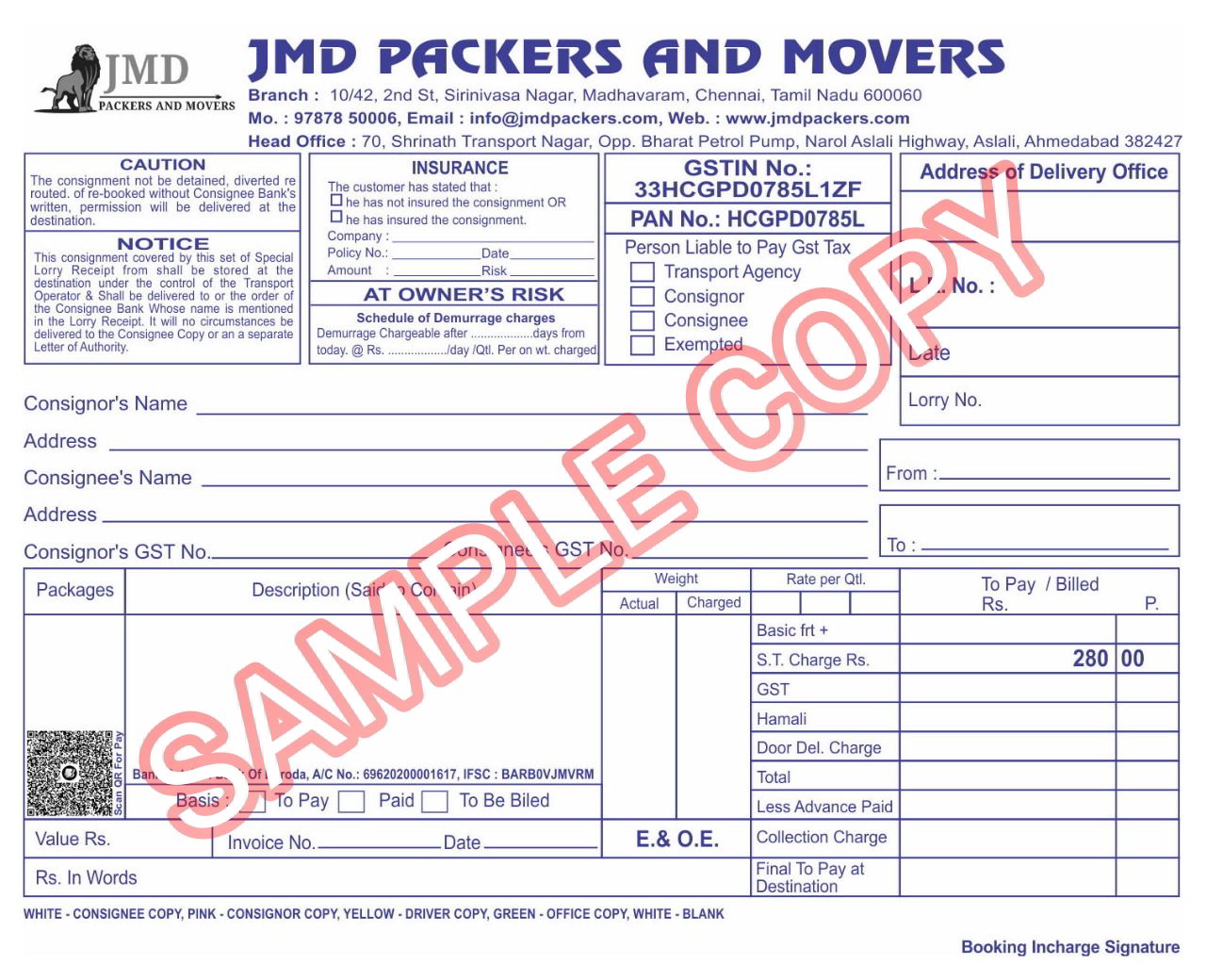 PACKERS AND MOVERS BILL FOR CLAIM SERVICES - MONEY RECEIPT
To claim the bill, it is very important to have the money receipt, in this the CA number of the bill, GR number, from whom we have received the payment, the name of the person, the amount that we have received. Payment received by cheque, cash or DD. Description and Payment We have received or partially received the flowers.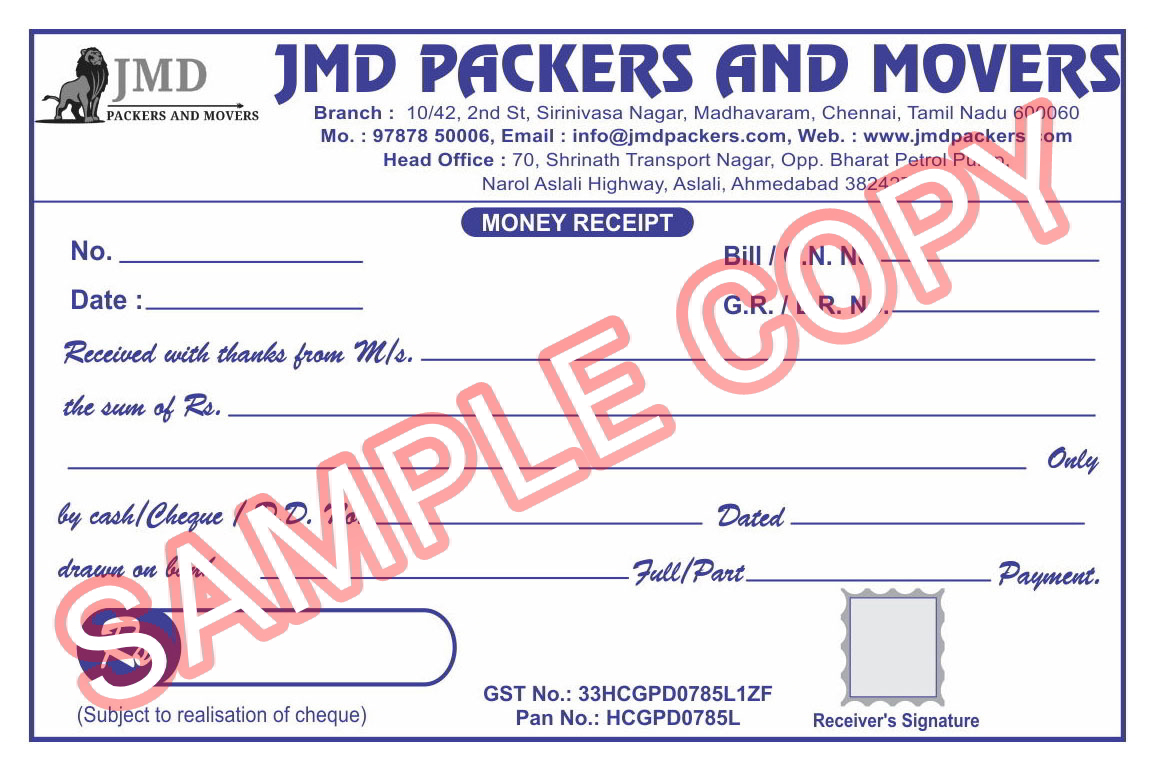 BILL - BILL CLAIM FOR PACKERS AND MOVERS
To claim the bill, it is most important that in the bill the full address including the name of the customer, bill number, date, branch name, package, goods, truck number, where the goods went, where the goods will go. Details of transportation charges, packing charges, loading charges, unloading charges, insurance charges, escort charges and packing charges, storage charges, other charges, as well as GST. What percent GST is applicable and company has PAN number and GST number.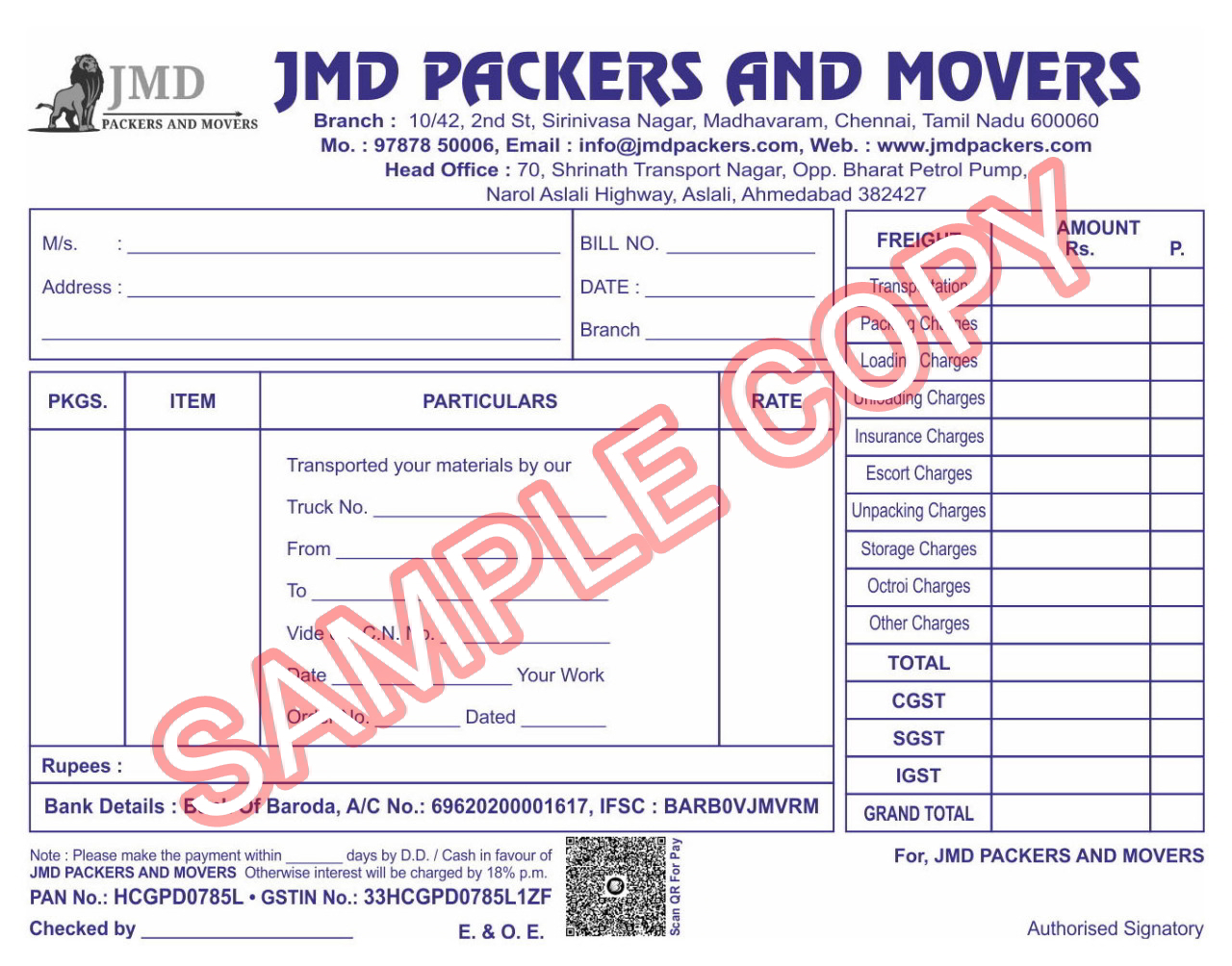 PACKING LIST - PACKERS AND MOVERS FOR BILL CLAIM
Packing list is an essential document, it contains the name and address of the consignor and the name and address of the recipient. Along with this, it is also known that with which material the packing is done, done in cargo roll, done in cartoon box or done in bubble. The name of the goods remains in the packing list. The estimated value depends on the cost of the consignment, wherein it becomes easier for the customer to claim the bill and if he takes insurance from the packers and movers company, in case some of the goods are incidentally damaged. It happens. So he can get claim from insurance company.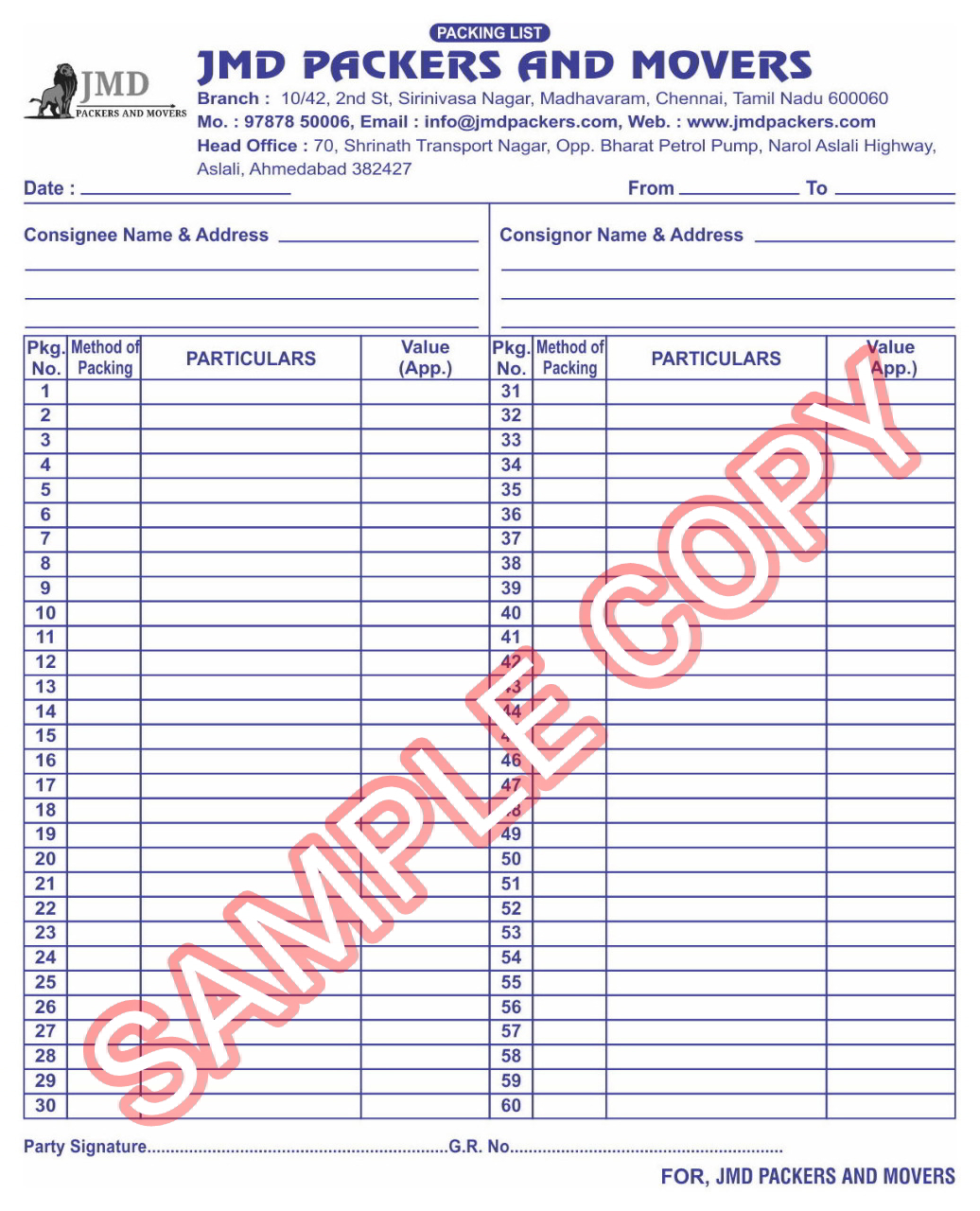 PACKERS AND MOVERS BILL CLAIM - QUOTATION
Customers should always keep in mind that if they choose any packers and movers then they should first take the quotation of at least three packers and movers because you can compare which packers and movers will be best for you. believes that customers should always choose packers and movers who have GST bill and all the documents required to claim the bill should be available with the packers and movers company. Many times customers make such a mistake that in haste they do not choose the government registered packers and movers company and their packers and movers bills are not claimed. You should choose for Packers and Movers Bill Claim because we are a government registered packers and movers company and we have all the required documents for Packers and Movers Bill Claim. The sample quote you are looking for! gives you a comprehensive quotation.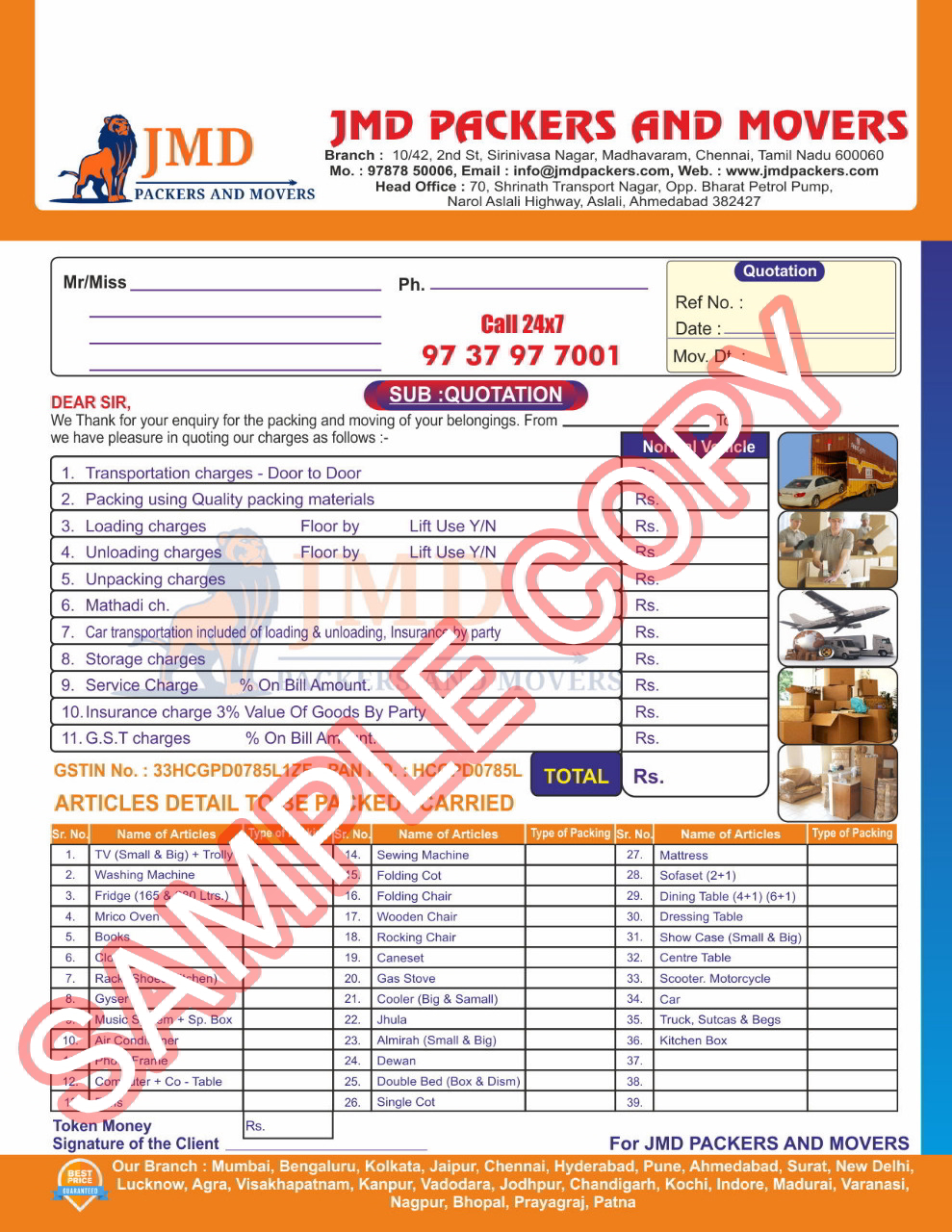 24x7 Support
We provide exceptional customer support and keep open lines of connection throughout the moving procedure. We handle any questions or problems promptly, improving the overall customer background.
AROUND THE CLOCK SUPPORT
24/7
SMOOTH AND FAST DELIVERY
JMD Packers and Movers
Achievements
21,99
+
Projects Complete
5 Star Ratings
Clients love us! 5-star ratings on Google, Facebook, and more.
ISO Certified Company
Certificate No: A5277D52, for Transportation, Logistics,, Household Relocation and Warehouses Services.
10+ Years of Trust
Expanding nationwide, we've been serving since 2012, aiming to be the premier Packers and Movers company. Your relocation, our priority!
100%
Secure
With us, your goods are safe and secure as we accomplish our work with great responsibility and take care of all your belongings.
Smooth and
Fast Delivery
Smooth and fast delivery is the most important part of any moving company.
24x7
Customer Support
We have a professional team of customer support supervisors who aid you 24x7 with our quality services.
Professional
Teams
You only need to spend for the space you use and understand the exact amount you move.
JMD Packers and Movers'
Excellent Viewpoint
JMD Packers and Movers have earned excellent viewpoints from customers and the enterprise paired due to varied motivations. Here are some of the essential aspects of donating to their favorable standing:
Our
Professionalism
We demonstrate a high class of professionalism in our services. We engage well-trained and experienced staff who are skilled in managing all facets of the moving method and guaranteeing a smooth and efficient relocation.
Follow
Safety Measure
Safety measure is important when it comes to moving belongings. We take maximum care and use high-quality packaging materials, sturdy moving supplies, and suitable methods to guarantee the safety of the goods during transportation.