The Ultimate Guide to Stress-Free Home Shifting: Tips from JMD Packers and Movers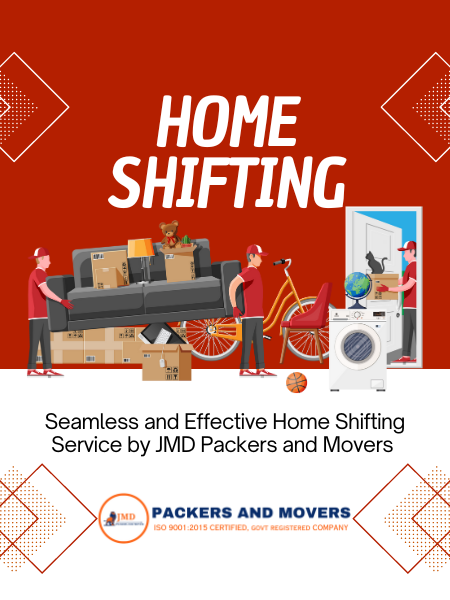 Packers and Movers
Home Shifting
Office Shifting
Bike Shifting
Car Shifting
Packing and Unpacking
Loading and Unloading.
Author:
JMD Packers and Movers
Date:
21/08/2023 05:13 pm
Are you planning a home shift? Moving to a new home can be an exciting journey, but it's no secret that the process itself can be quite stressful. Thankfully, JMD Packers and Movers is here to share the ultimate guide to ensure a stress-free home shifting experience. Our holistic shifting services, including home, office, car, bike, packing, unpacking, loading, and unloading services, are designed to make your transition smooth and hassle-free.

1. Plan Your Move Strategically
The key to a successful move lies in meticulous planning. Start by creating a comprehensive moving checklist. Include tasks like notifying utility services, updating your address, and scheduling the move with JMD Packers and Movers. Early planning helps you stay organized and reduces last-minute stress.
2. Declutter for a Fresh Start
Before you start packing, take the opportunity to declutter your belongings. This not only reduces the items you need to move but also helps you start anew in your new space. Donate, sell, or discard items you no longer need, making packing and unpacking a breeze.
3. Expert Packing Services for Fragile Items
JMD Packers and Movers offers professional packing services that ensure the safety of your belongings during transit. Our skilled team uses top-quality packing materials and techniques to safeguard fragile items, electronics, and valuable possessions. This attention to detail minimizes the risk of damage during the move.
4. Labeling and Inventory: Stay Organized
Make unpacking easier by labeling your boxes with their contents and destination rooms. Consider creating an inventory list of your items for reference during the move. This helps you keep track of your belongings and ensures nothing gets misplaced.
5. Choose Tailored Moving Services
Whether you're shifting homes, offices, cars, or bikes, JMD Packers and Movers has you covered. Our comprehensive services cater to your unique needs, ensuring a personalized experience. Choose the services that align with your requirements, making your move efficient and cost-effective.
6. Essential Box: Quick Access to Necessities
Pack an essentials box with items you'll need immediately upon arrival. Include toiletries, a change of clothes, important documents, chargers, and basic kitchen supplies. This eliminates the need to dig through boxes right away and lets you settle in comfortably.
7. Unpacking with Precision
Unpacking can be overwhelming, but taking it one room at a time makes it manageable. Start with the most essential areas and refer to your labeled boxes and inventory list. Don't rush—maintain a steady pace to stay organized and reduce stress.
8. Rely on Professional Expertise
While a DIY move might seem tempting, enlisting professionals like JMD Packers and Movers offers several advantages. Our experienced team handles logistics, ensuring the safe and efficient transportation of your belongings. This leaves you with more time to focus on settling into your new space.
Conclusion
A stress-free home shifting experience is within reach, thanks to the expertise of JMD Packers and Movers. With strategic planning, expert packing services, and personalized solutions, you can transition to your new home seamlessly. Contact us today to learn more about our holistic shifting services and make your next move an enjoyable journey. Your stress-free move starts here!