Preserving Memories: Safely Moving Your Car and Bike with JMD Packers and Movers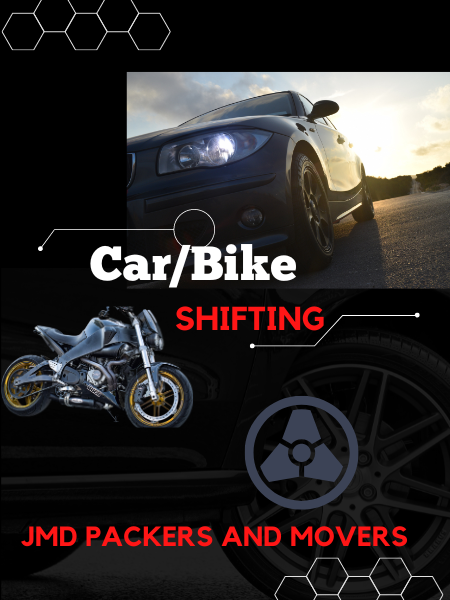 JMD Packers and Movers
Packers and Movers
Home Shifting
Office Shifting
Car Shifting
Bike Shifting
Packing and Unpacking
Loading and Unloading.
Author:
JMD Packers and Movers
Date:
22/08/2023 11:42 am
Moving to a new location is a significant life event, often marked by a mix of excitement, anticipation, and a touch of nostalgia. Amidst the planning and packing, there's something else that often holds a special place in your heart – your beloved car and bike. These vehicles have been a part of your journeys, adventures, and memories. As you embark on a new chapter, you want to ensure that your cherished vehicles arrive at their new home safely and securely. This is where JMD Packers and Movers steps in, providing expert vehicle transportation services that not only move your vehicles but also preserve the memories associated with them.

Why Choose JMD Packers and Movers for Vehicle Transportation?
At JMD Packers and Movers, we understand that your car and bike are more than just modes of transportation; they are an extension of your identity and a vessel of cherished memories. Our holistic shifting services, which include home shifting, office relocation, car and bike transportation, packing and unpacking, and loading and unloading services, are designed to cater to every aspect of your move, ensuring a smooth and hassle-free experience.
1. Expertise in Vehicle Transportation
Moving a car or bike requires specialized knowledge and skills. Our team of professionals is well-versed in the intricacies of vehicle transportation. From securing the vehicles within carriers to choosing the optimal transportation route, our experts ensure that your vehicles are in safe hands.
2. Specialized Car Carriers
To protect your vehicles from the elements and road conditions, we utilize specialized car carriers. These carriers are equipped with advanced features that shield your car from debris, weather conditions, and potential damage. The vehicles are securely fastened within the carrier, preventing any movement during transit.
3. Careful Handling of Bikes
Bikes come in various shapes and sizes, and our experts understand the importance of careful handling. We employ industry-approved techniques to secure your bike, preventing scratches, dings, and movement during transit. Your bike will arrive at the destination just as you left it.
4. Protective Packing Measures
Before loading your vehicles onto carriers, we implement protective packing measures. Delicate areas of your vehicles are covered to prevent scratches, padding is used to absorb any impacts, and loose parts are secured to minimize movement during transit. This attention to detail ensures that your vehicles arrive in pristine condition.
5. Comprehensive Insurance Coverage
While we take every precaution to ensure the safety of your vehicles, unforeseen events can occur. JMD Packers and Movers offers comprehensive insurance coverage options for your vehicles during transit. This added layer of protection offers you peace of mind and reassurance.
6. Timely Delivery
We recognize the significance of your vehicles in your daily life and aim to ensure their timely delivery. Our logistics team carefully plans routes and schedules to guarantee that your vehicles reach their destination on time. This minimizes any disruption caused by the absence of your vehicles.
7. Transparent Communication
We understand that moving your vehicles can be a nerve-wracking experience. That's why we maintain open and transparent communication throughout the transportation process. You'll be kept informed about the progress of your vehicles, allowing you to track their journey.
8. Preserving Memories for the Future
More than just transportation, moving your car and bike is about preserving the memories and experiences associated with them. JMD Packers and Movers recognizes the sentimental value attached to your vehicles and treats them with the utmost care. Our services aren't just about moving; they're about ensuring that your vehicles continue to be a part of your journey.
Conclusion
Moving is more than just a physical change of location; it's an emotional journey filled with memories and hopes for the future. Your car and bike have been companions in this journey, and they deserve the best treatment when it's time to move. JMD Packers and Movers' holistic shifting services extend to vehicle transportation, ensuring that your cherished vehicles arrive safely and securely at their new home. With a team of experts, specialized carriers, protective packing techniques, and a commitment to excellence, we stand by your side as you make this transition. Preserve your memories, embark on new adventures, and let JMD Packers and Movers take care of your vehicle transportation needs. Contact us today to learn more about our services and how we can contribute to your seamless move.